We are proud to be Michigan's Authorized
Dealer for the Galley Ideal Kitchen Workstation!
Let the innovative Galley Workstation make cooking fun again,
clean up simple, and parties a breeze to organize.
The award-winning, innovative Galley Ideal Kitchen Workstation is much more than a sink, it is a super-functional, stylish kitchen workstation that represents a whole new category of kitchen appliance. It offers a complete culinary system in one convenient location, allowing you to prepare, cook, serve, entertain and clean all in one central place.
The Galley Workstation will revolutionize the way you use your kitchen, from small family dinners to large parties. Learn more about how the Galley Workstation can transform family pasta night in this video demonstration.
The kitchen is even more functional and ergonomic when you add a cooktop next to the Workstation. Each Galley is thoughtfully designed, engineered and hand-crafted in the USA. The Galley Workstation is available in six standard sizes, ranging from 2' to 7', and can be customized to suit any size or style kitchen design. A typical set-up also includes the Signature Accessory package, unique to each size, available in white, black or bamboo accessories.
The proof is in our satisfied customers and the Galley Workstations that transformed their kitchen designs.
This kitchen renovation in Bloomfield Hills is full of unique design features that help define the personality of the home. A 5' Galley Workstation and elongated island with a seating area are perfect for entertaining, family gatherings, or day-to-day casual dining. The island cabinetry has a different finish than the perimeter 3/4 height cabinets, and the hutch offers a bar with x-muntins plus extra storage, beverage refrigerator, and dishwasher. The Elica stainless range hood provides both light and filtered ventilation, and the sliding barn door adds a rustic touch to this beautiful craftsman style kitchen design.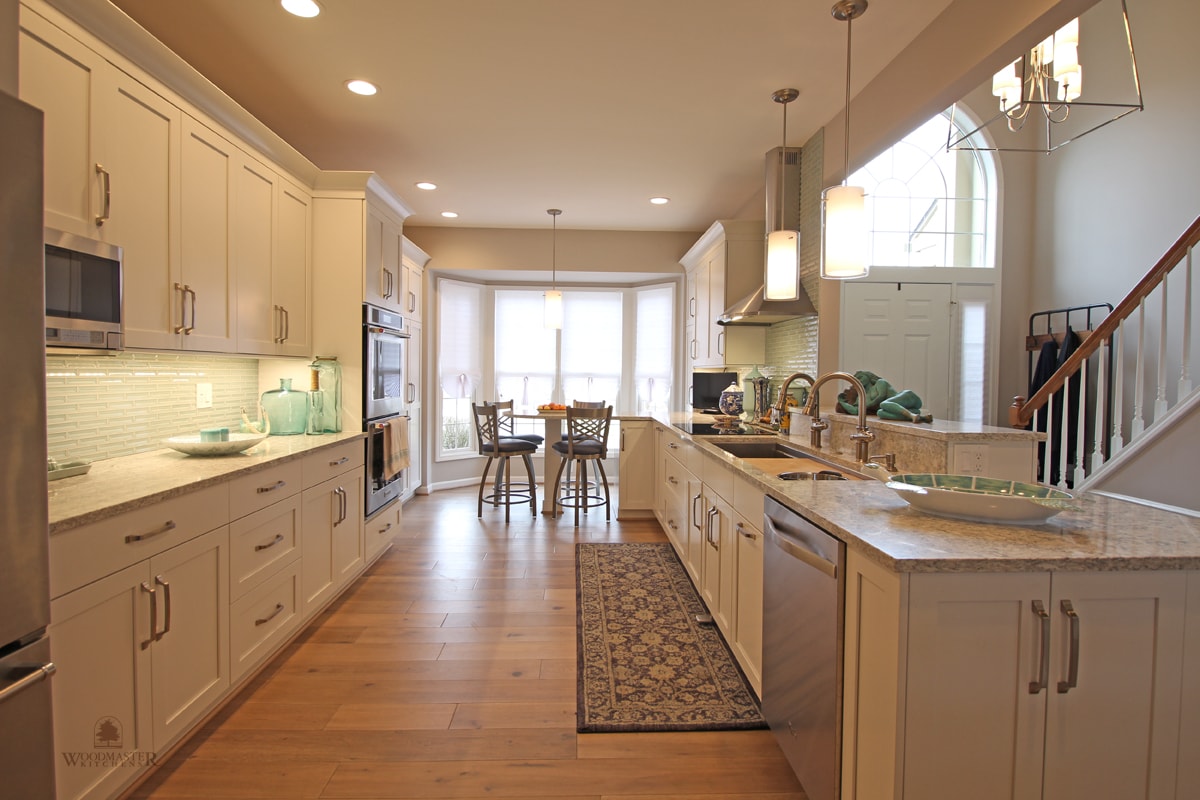 This contemporary kitchen design is a dream come true, full of stylish, practical, and one-of-a-kind features. The large kitchen is part of a great room that includes a living area with built in display shelves for artwork. The kitchen features two separate islands, one for entertaining and one for casual dining and food preparation. A 5' Galley Workstation, pop up knife block, and specialized storage accessories complete one island, along with the fabric wrapped banquette and personalized stainless steel corner wrap designed by Woodmaster Kitchens. The second island includes seating and an undercounter refrigerator allowing guests easy access to beverages. Every detail of this kitchen including the waterfall countertop ends, lighting design, tile features, and hardware work together to create a kitchen design that is a masterpiece at the center of this home.
Better yet, contact us today or stop by our showroom so we can show you in person how The Galley will change the way you use and enjoy your kitchen!