Designer Cabinets, Countertops and More to Remodel Your Kitchen
We hope that meeting with our talented kitchen designers & remodelers in St. Clair Shores will be a life-changing (or at least room changing) experience. We are ready to take your ideas, hopes and dreams and translate them into the new kitchen, kitchen renovation or kitchen remodeling you've always wanted.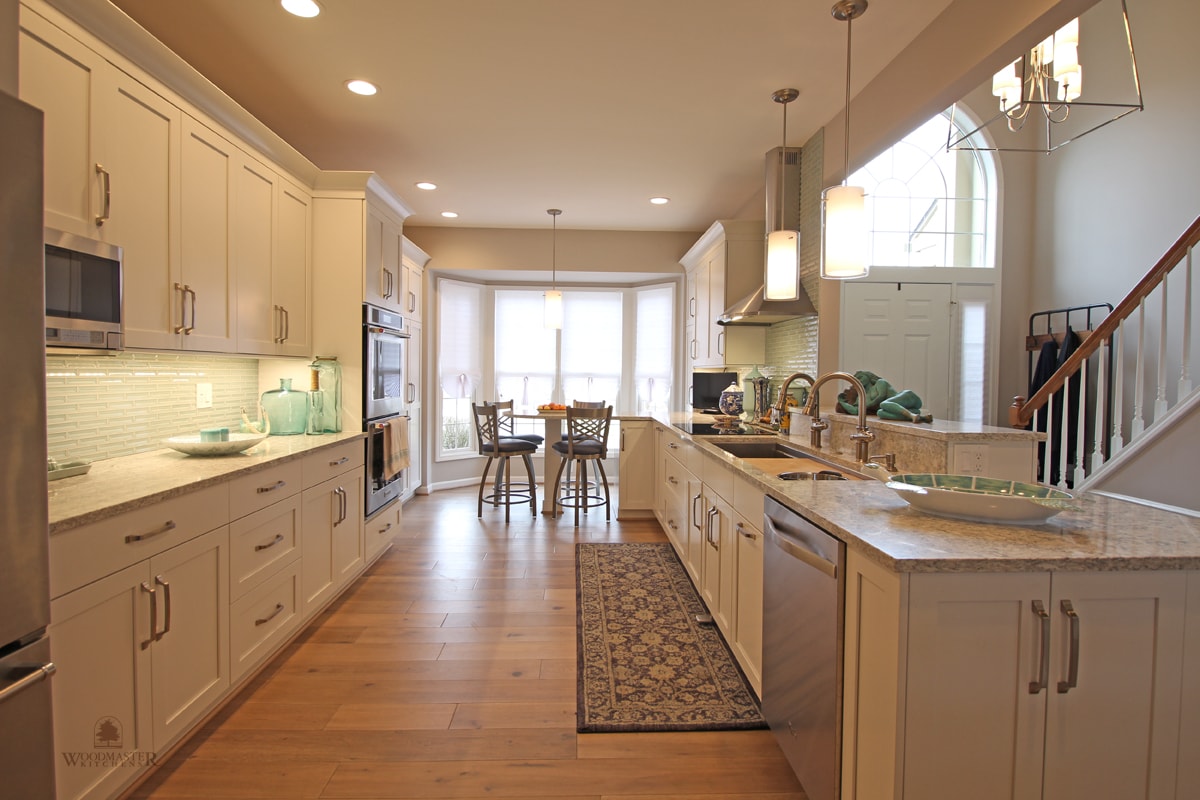 This transitional kitchen design in Farmington Hills was done as part of a home remodeling project that also included a beverage bar, laundry room, and bathroom. A 4' Galley Workstation was installed in the large kitchen island and included a Signature Accessory Package. The bi-level island has a raised bar area for seating, an induction cooktop next to the Galley Workstation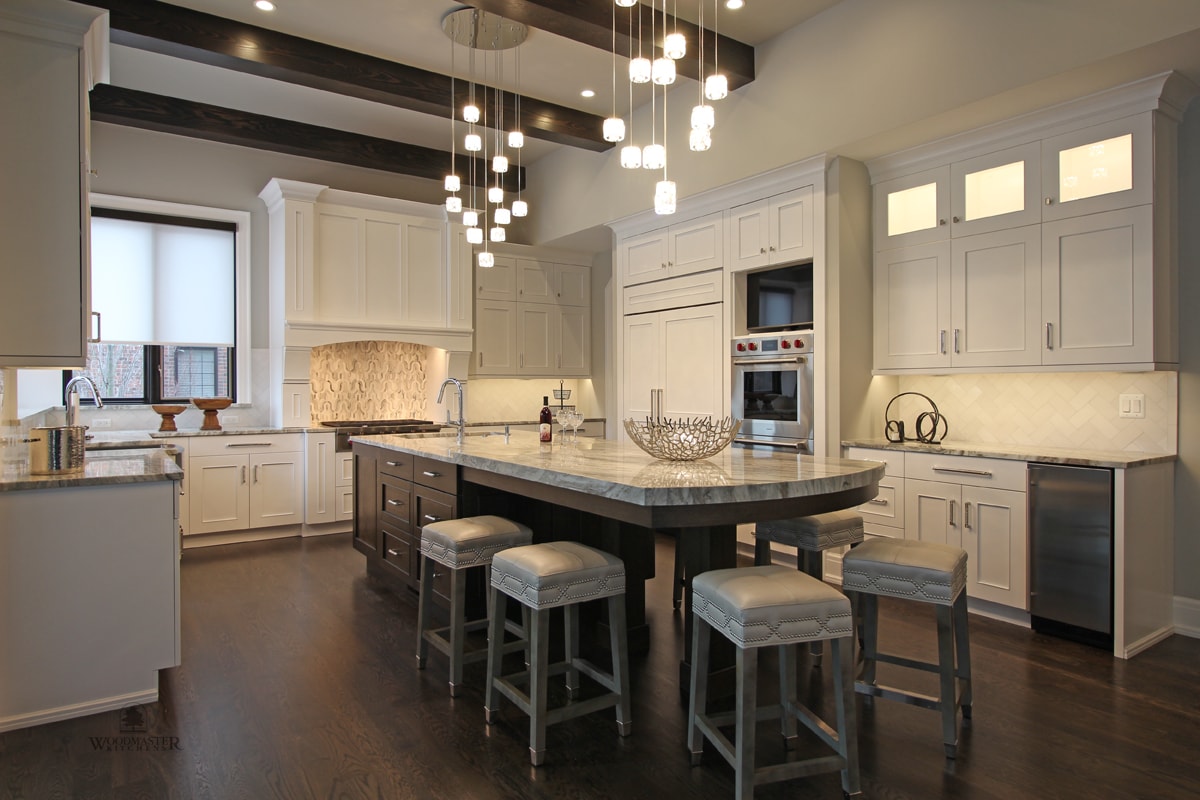 This kitchen renovation in Bloomfield Hills is full of unique design features that help define the personality of the home. A 5' Galley Workstation and elongated island with a seating area are perfect for entertaining, family gatherings, or day-to-day casual dining. The island cabinetry has a different finish than the perimeter 3/4 height cabinets, and the hutch offers a bar with x-muntins plus extra storage, beverage refrigerator, and dishwasher. The Elica stainless range hood provides both light and filtered ventilation, and the sliding barn door adds a rustic touch to this beautiful craftsman style kitchen design.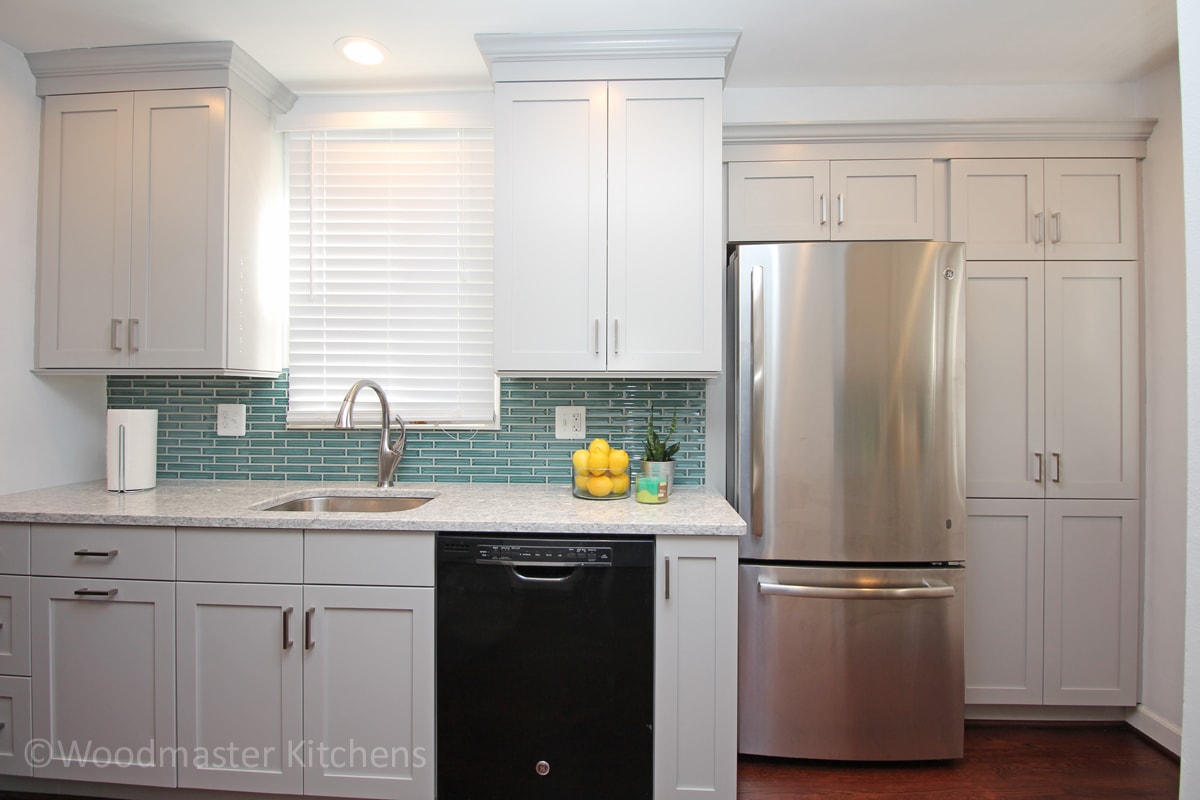 This transitional style enclosed kitchen design is a bright, airy kitchen with light gray, shaker style Crystal Cabinetry kitchen cabinets, accented by Top Knobs hardware and an engineered quartz countertop. The sleek, neutral kitchen is set against the backdrop of an eye-catching Alyse Edwards Half-Baked Tile in "Teal the Timer Rings".
This contemporary kitchen design is a dream come true, full of stylish, practical, and one-of-a-kind features. The large kitchen is part of a great room that includes a living area with built in display shelves for artwork. The kitchen features two separate islands, one for entertaining and one for casual dining and food preparation. A 5' Galley Workstation, pop up knife block, and specialized storage accessories complete one island, along with the fabric wrapped banquette and personalized stainless steel corner wrap designed by Woodmaster Kitchens. The second island includes seating and an undercounter refrigerator allowing guests easy access to beverages. Every detail of this kitchen including the waterfall countertop ends, lighting design, tile features, and hardware work together to create a kitchen design that is a masterpiece at the center of this home.
This craftsman style kitchen design offers the ultimate open plan kitchen with a fantastic view and high ceilings. The design includes open storage shelving, a tile backsplash that extends to the ceiling at the range, and windows that bracket the stainless chimney hood. Casual seating at the island offers the perfect place to eat breakfast or chat with guests.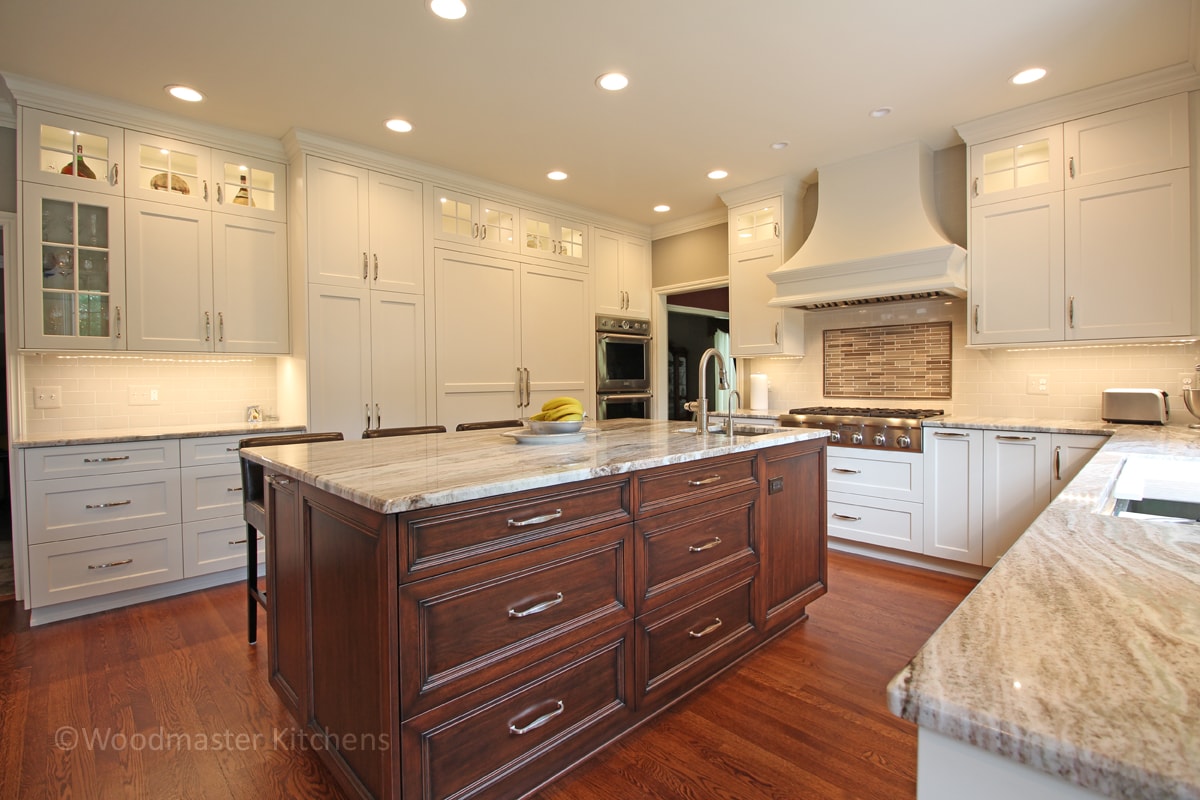 This home remodeling project included a kitchen remodel plus a new front door and foyer upgrade. The kitchen design includes frameless Woodmaster Cabinetry, offset by an engineered quartz countertop, Richelieu cabinet hardware, and Emser backsplash. The kitchen features a 5' Galley Workstation with white resin accessories and an industrial rectangular stainless steel sink with a Delta faucet in the perimeter. The front entry way upgrade includes a striking Virginia Tile and new front door.
Packed with excellent features, this open plan modern kitchen design offers the perfect environment for cooking, dining, entertaining, and relaxing. The centerpiece is a geometric island that incorporates a 3' Galley Workstation, stools for seating, pop up plugs, along with a ceiling ventilation system. The mosaic tile backsplash is echoed in the built-in coffee bar with glass front cabinets. A peninsula separates the kitchen and dining area from the living room.
This kitchen design combines the warmth and charm of a traditional style with the latest features and top materials. The dark wood Crystal Cabinets kitchen cabinets are beautifully contrasted by a Typhoon Bordeaux granite countertop and Virginia Tile Crossville Mixology backsplash in natural linen, all highlighted by Task Lighting undercabinet lights. The 30" Chef's stainless steel kitchen sink from MR Direct sits underneath the bright kitchen window, and is equipped with a Mountain Plumbing garbage disposal with air switch and Brizo Artesso faucet.
This modern, white kitchen design offers a sleek appearance that conceals an array of clever storage solutions. The main kitchen cabinets incorporate storage shelves, a pull-out spice rack, open shelves, glass front cabinets, and even a special stand-mixer shelf. Adjacent to the kitchen is a handy, customized bootbench in matching cabinetry. The island includes both work space and seating, as well as a 4' Galley Workstation.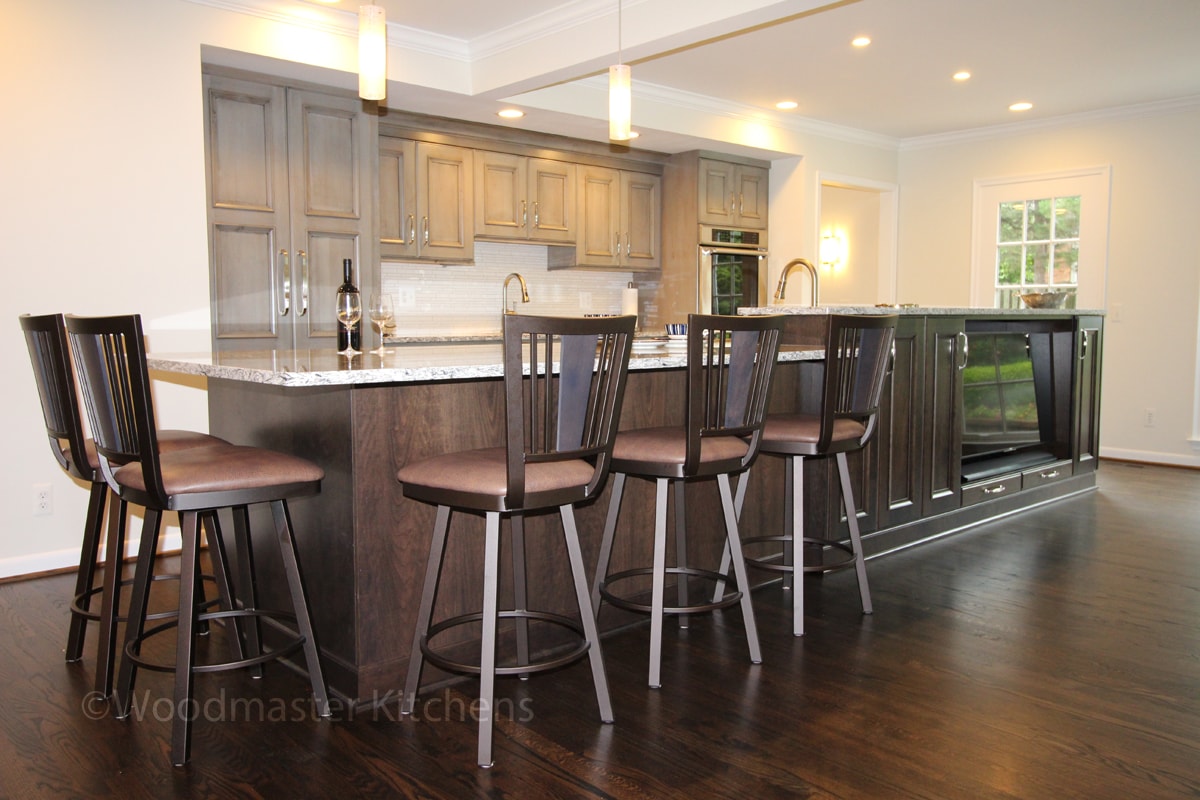 This traditional style kitchen design offers a warm, inviting environment. It takes a new approach to the open plan kitchen, by including a custom built television cabinet in the island. One side of the kitchen island includes a 4' Galley Workstation and range so you can prepare food while the other side of the island includes seating and the built-in television next to a living area.
This versatile kitchen design offers plenty of space for food storage, cooking, dining, and socializing. The island includes a Galley Workstation 3' undermount sink with the Signature Accessory package. The white perimeter kitchen cabinets are contrasted by the peppercorn stained island and wine bar cabinetry, all topped with a granite countertop. Inside the cabinetry is an array of storage accessories, including roll out shelves, a peg storage system, and tray dividers. The mosaic calacatta backsplash is offset by a Lacy Flowers mosaic tile feature, and everything is illuminated by a well-planned lighting design.
This eclectic kitchen design is packed with decorative and practical features. The custom wide frame Shaker style kitchen cabinets are finished in Benjamin Moore gray owl color, which provides a striking contrast to the dark cherry stained island cabinetry. The cabinets are finished with beautiful details including ice box hinges on selected cabinets and crown molding around the room perimeter. Inside the cabinets is a treasure trove of specialized storage including a pantry with roll out shelves, a peg drawer system for storing plates, a silverware drawer, and more. The stainless chimney hood complements the appliances and an undercounter refrigerator provides beverage storage. The attention to detail and personal touches throughout the space make this a one-of-a-kind kitchen design!
This kitchen design packs ample work and storage areas into every available space. The white chocolate finish Medallion kitchen cabinets with a burnt sienna glaze include concealed hinges and slow close doors and drawers. The U-shaped design includes a peninsula with space for seating, and additional cabinets incorporate a built-in television and extra storage. A Rev-a-shelf pull out ironing board is neatly concealed inside the cabinets. The design is complemented by a mosaic tile backsplash, hardwood floors, and Top Knobs hardware.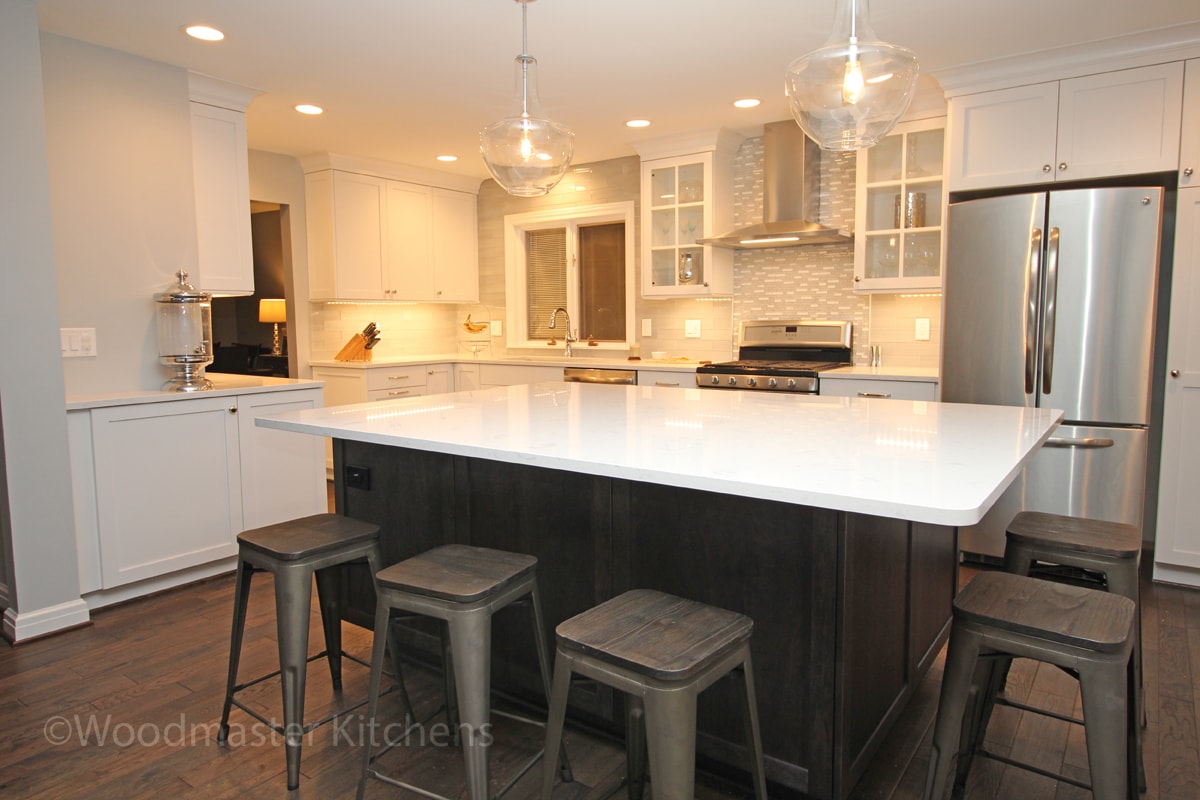 This contemporary kitchen design features two kitchen cabinet lines in different finishes. Upper glass front cabinetry is ideal for displaying your best glassware. The island includes a seating area with barstools, an undercounter beverage refrigerator, and glass pendant lights. It sits adjacent to a living area, making this the perfect place for casual dining or entertaining friends.
Many people visit our kitchen and bath showroom thinking that they need to have the layout of their new kitchen already planned, and that they are coming in only to select materials such as cabinetry or countertops. Material selection is important, but it is more important that your kitchen renovation is an outward representation of your personal style and your functional requirements.
We encourage you to come in with an open mind. Like consulting a doctor or a mechanic, meeting with a designer should involve using their expertise and experience to help you achieve your goals. Count on us to come up with new and creative solutions to your kitchen remodeling problems, to make the best use of your space, and to advise you on how to meet your creative goals while staying within your budget. We will have your best interests at heart, because we've found that establishing a trusting relationship leads to return business and referrals.
Good kitchen design is a result of science meeting art. We understand the scientific principles of ergonomics as it relates to how the human body operates in a kitchen for the tasks being performed. Questions we typically answer for our clients include: How high should a microwave be mounted? Is the work triangle still a necessary design principle? Will I find the noise level on this hood too loud?
We are also up to date on the latest design trends, whether it be a particular type of countertop material, the latest finishes on cabinetry, or new appliances. Are glass countertops an option for my kitchen? What is the wood type and finish of the kitchen cabinets in this picture of a kitchen I like? What is magnetic induction cooking and is it right for me? It is our job at Woodmaster Kitchens to be able to address these questions and more. If we do not know the answer, we will investigate it and find out for you.
The same principles hold true for construction expertise. We are a licensed, fully-insured contractor. This involves an educational background as well as real world experience in construction techniques. Can this wall be moved or removed? Can you correct the sloping floor in the corner?" Is this a load-bearing wall and how does that affect my project? In addition to our own knowledge, we have access to architects and structural engineers with an expertise in kitchen renovation.
Have we convinced you? Come in, let us get you started. We think you'll be more than happy with the results.